The Spirit of Terry Fox Lives On!
Canadians recently nominated Terry Fox as one of the 100 Greatest Canadians of All Time, and with good reason. Terry Fox responded to the personal tragedy by connecting to a greater cause.

The Terry Fox Foundation
offers a good bio of his life and his legacy.
To date, more than $360 million has been raised worldwide for cancer research in Terry's name through the annual Terry Fox Run, held across Canada and around the world.
Young men in war-torn Sierra Leone have followed Terry's lead, and are championing the cause of children in conflict. Their courage is an inspiration.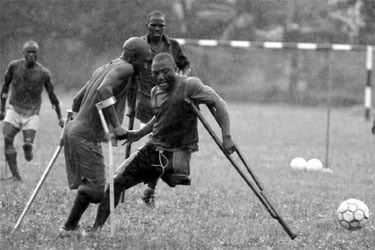 Amputee Soccer - Training Fourteen Sierra Leonean amputee football players departed for the United Kingdom in late August 2003 to play their English counterparts. The Players lost their limbs during Sierra Leone's brutal decade-long civil war. The team began two years ago as a soccer club founded by amputees who only wanted an opportunity to play the game they loved. It is evolving into a tool for self-empowerment in one if the world's poorest counties. All the players occupy their country's lowest financial strada, have little opportunity for employment, and have been stigmatized by society, thus further prohibiting economic and personal advancements. The tour's goal was to bring attention to their plight. The players also wanted victory on the pitch. The tour was orginized by "Children in Conflict" an NGO wanting to increase public awareness of their activities in Africa. The NGO also viewed the tour as an opportunity to use sport as a therapeutic vehicle for victims of trauma.
Support
Action For Children in Conflict
http://www.actionchildren.org/help_events_Play_4_Hope_Tour.htm